Costanza Laliscia is again on the top of the world. The 20 years old rider of Fuxiateam  from Italia Endurance Stables & Academy won the FEI Endurance Young Rider World Ranking 2019, ruled for the second time in four years the FEI's Ranking for the riders under 21. Costanza, which also imposed itself in 2016, closed 2019 with 1,406 points, ahead of Argentina's Ema Neves Sanchez (1,275) and Emirate Fares Ahmad Saeed Dafoos Amer Al Mansoori (1,227).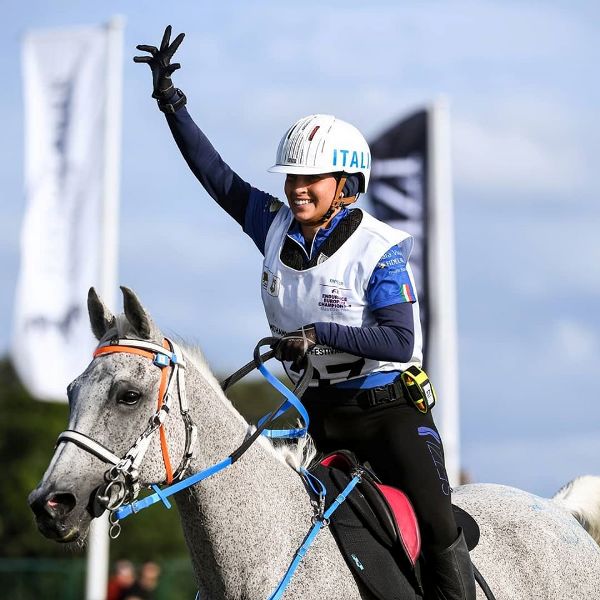 The greatness of the result centered by the Perugian athlete, student in the second year of the degree course in Motor and Sport Sciences at the University of Perugia, is given by the ability to repeat itself in a very competitive and global scenario with 506 riders who took starts a challenge that lasted a whole year and races that have been held all over the world. Costanza got the better by putting an enviable road map on the plate: 16 races completed on 21 participations, 7 victories, 6 second places, 2 thirds and a top ten position. An exhilarating season, enhanced by the historic conquest of Sacha El Kandhaar of the European Senior Championship, which on August 17 in Euston Park (England) saw Constance rise on the top step of the podium of the most important race in the old continent. Triumph, this, which was not the only one in the year gone by a few weeks in the archive: next to the gold medal at Euston Park the second places in the Italian senior championship shine with their own light (behind the teammate Carolina Tavassoli Asli ) and in the Italian Young Riders Championship and the conquest of the Italian Young Riders Cup. Costanza Laliscia, who also has 6 calls to her national team, has a career that already indicates her among the best and most reliable riders in the world: 124 races speak for her of which 77 concluded, 30 victories, 54 podiums and 78 placements in the top ten.
"It was an unforgettable year – commented Costanza – which ends with a result that pays off, both me and the whole Fuxiateam, with not indifferent sacrifices. It was not easy to confirm all the more because, having chosen to focus on the European Senior Championship and giving up the world championship young riders, involved the even greater commitment to take part in many more races than expected to acquire points for the Ranking. And this was only possible thanks to a team that worked hard together with me to introduce always at the start with horses in top condition. This second victory of the FEI Endurance Young Rider World Ranking would not have been possible without a great organization, the obsessive attention to detail and the proverbial determination that has always distinguished Italy Endurance Stables & Academy ".